23 Jan 2023
South Korea's Carbonco to Introduce CCUS Tech to Saudi Arabia's Desalination Plants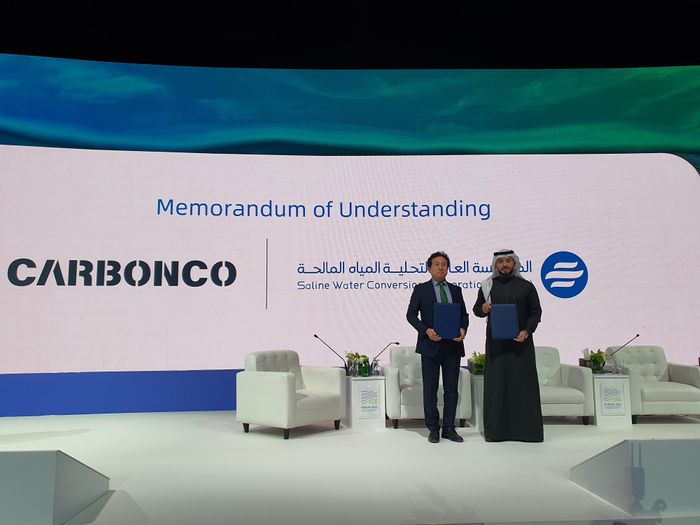 South Korean company Carbonco which specializes in decarbonization solutions, announced on 19 January that it has signed an MoU with Saudi Arabia's Saline Water Conversion Corporation (SWCC) to cooperate on carbon capture technology.
Carbonco said the CCUS technology will be used to trap carbon from power plants operated by SWCC. The captured carbon will then be used in the seawater desalination post-treatment process.
"Carbonco is committed to advancing CCUS technology to apply it to diverse fields, while striving to provide total solutions for CCUS," said Jae-hyung Yoo, Chief Executive, Business Development Office, Carbonco.
"If Carbonco's CCUS technology is applied to the seawater desalination process, it will become a tailored solution for carbon neutrality in Saudi Arabia."
SWCC, which is the world's largest seawater desalination facility and Saudi Arabia's second largest electricity producer, is leading seawater desalination and power generation carbon reduction projects in Saudi Arabia using renewable energy.
Tariq Al Ghaffari, General Manager of SWCC Local Competence Projects Department said, "SWCC is working on the seawater desalination project using renewable energy to take the initiative in realizing Saudi Arabia's VISION 2030."
Under the agreement, both parties will collaborate on CCUS business development, including the construction of a commercial CCUS plant, Carbon Capture Technology Expo understands.
Additionally, Carbonco and SWCC will conduct joint research on a variety of CCUS projects covering biological and chemical conversion, mineralization, and carbon storage.