07 Mar 2023
Siemens Energy Equipment to Be Used at Occidental's Direct Air Capture Plant in Texas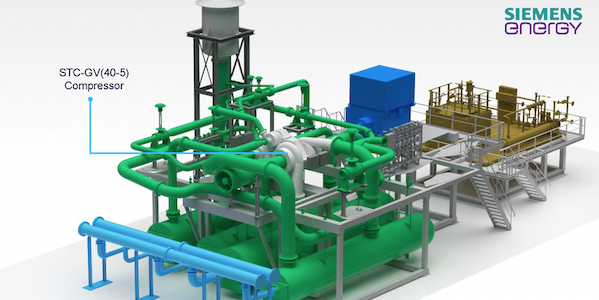 Siemens Energy compressors will be used at Occidental's first large-scale Direct Air Capture plant in Texas' Permian Basin developed by 1PointFive, a subsidiary of Occidental. The two compressor packages will enable the plant to capture up to 500,000 metric tons of CO2 every year when fully operational, the company announced on 6 March.
Siemens Energy will supply a motor-driven 13,000 horsepower (hp) fully modular wet gas compressor package and a motor-driven 8,500 hp dry gas compressor for the DAC plant. The equipment will compress the captured CO2 for additional processing and pressurize the final product into a pipeline for injection into underground reservoirs.
Siemens Energy President and CEO Christian Bruch commented on the collaboration saying: "We are honored to be part of such an important project. Technologies to effectively capture and sequester CO2 will be a necessity if we want to achieve our climate goals. Close partnerships with partners like Occidental are the base to scale up innovative solutions."
"We are leveraging Oxy's core competence in carbon management to capture and sequester atmospheric carbon dioxide to help meet the goals of the Paris Agreement and reduce emissions globally," said Vicki Hollub, President and CEO of Occidental. "Our first Direct Air Capture plant will advance industrial-scale carbon capture to provide a solution to help Oxy and others accelerate their respective paths to net zero."
Policy incentives, such as the Inflation Reduction Act, are accelerating DAC technology as a climate solution to help organizations reduce their CO2 emissions.
BloombergNEF's latest forecast, New Energy Outlook: Industry, estimates carbon capture and storage technology will account for 29% of carbon reductions by mid-century, putting it ahead of hydrogen.
Photo: Business Wire