Endrava launches revolutionary CCUS projects feature in CaptureMap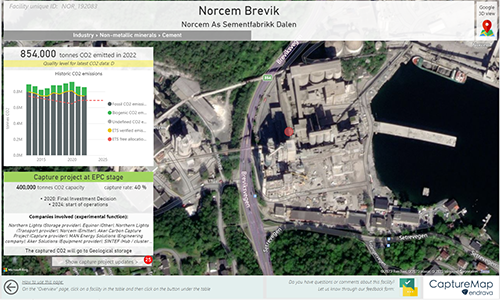 Endrava, a leading Norwegian climate-tech firm, is set to unveil a game-changing enhancement to their decarbonization solution – CaptureMap.
CaptureMap is swiftly establishing itself as the go-to interactive map-based platform in the industry. Featuring data on over 15,000 industrial emitters across 156 countries and representing almost 16 gigatons of annual CO2 emissions, it offers facility-level insights in a unique way. Starting with public data, Endrava employs its proprietary Emissions Engine with intelligent algorithms to refine, standardize, and categorize the raw data into actionable insights.
CaptureMap has become an essential tool for companies in the CCUS value chain, delivering high-fidelity, facility-specific CO2 emissions data, including 3D satellite imagery, biogenic CO2 details, ETS credits, and more. Its primary use case is in building better sales pipelines. Moreover, its visual appeal brings value to stakeholder engagements and informs strategic development.
The logical next phase of CaptureMap involves seamlessly integrating information regarding ongoing and planned carbon capture projects. While several project databases exist, they often lack comprehensive coverage, project update history, and insights into stakeholder engagement. Endrava's innovative approach tackles these shortcomings head-on, providing an unparalleled overview of global carbon capture initiatives, including direct links to recent news articles.
Perfect timing remains pivotal. CaptureMap now expands its role from presenting historical emission overviews to offering a forward-looking perspective on emission reductions. For those seeking to strengthen their foothold in the CCUS value chains, this tool is an invaluable asset.
CaptureMap's projects module is not yet publicly available but will launch sometime this fall. For more information and a sneak peak, book a demo at www.capturemap.no